Growing up in Los Angeles, I spent the warm summers of my early childhood watching MGM movies with my sister. We would sit there with potato chips and intrigue, and watch Meet Me in St. Louis, Chitty Chitty Bang Bang, and An American in Paris. The film industry is the larger set of Los Angeles itself, and movies felt very normal except for a couple of exceptional ones. Those with Esther Williams. She was singing and spinning and entertaining - doing the kicks we learned in ballet class - but while swimming.
It was unconscionable. I wondered, - "How did she twirl and not get water up her nose? How did she never forget to point her toes?" And, most hauntingly, "Doesn't she get tired?"
In the land of Disneyland, she was this incredulous person somehow suspended nautically, smiling above space and time.
My wonder was compounded by my young neuroses about swimming. My overly imaginative little writer's mind imagined sharks somehow drilling their way through the walls of the Los Angeles Athletic Club (?!?), and felt that rare dangers lurked amongst the chlorine.  I was a little Woody Allen, while here Esther Williams was doing a Chorus Line without breathing.
Looking back on her as an adult who now very much enjoys swimming and even did completed an open triathlon, I am less mystified by her. But I still think she's incredible. Not only as an entertainer and a professional, but as a woman in Hollywood. MGM built her her own tank:
And she was her own pop culture zeitgeist. Even Tom & Jerry wanted to swim like her: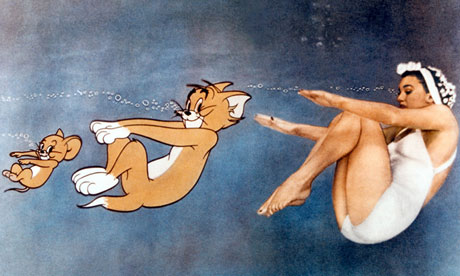 Esther Williams taught me a lot about the art of swimming. She was Americas's mermaid, but also a very serious athlete and woman. RIP.